DeNoyer Dance Studio was founded by Lillian DeNoyer in the mid-1950's.  Mrs. "D," as her students fondly called her, began dancing as a child, with her first teachers having been in Vaudeville circuit as the "Sandell Sisters."   Her dancing career took off when she became a favorite at the Forest Park Highlands, a once famous amusement park in St. Louis.  She later went on to become a shoe model because of her fabulous legs. Lillian retired from performing and modeling to become the mother of a son, Don, and a daughter, Sharon. At that time, Mrs. "D" was asked to teach dance for the local school district and the rest is history.

Mr. DeNoyer converted a corner market into a dance studio, complete with lovely wooden floors.  Lillian's sister, Myrtle, began working with her and in 1972, Sharon, then an elementary school teacher, joined them and began teaching dance. Lillian DeNoyer passed away in 1998 during a battle with cancer.  Thousands of students experienced her extensive knowledge of dance along with her firm yet loving demeanor.  Sharon continued as sole owner of DeNoyer Dance and continued the same tradition as Mrs. "D".

Sharon retired in 2013 and passed the torch down to Kelly Poole, who has been with DeNoyer for over 20 years, and Doug and Angela Hartzell. Their main goal is to give students a place to learn to dance and continue the great traditions that the DeNoyer Dance Studio has offered since 1956.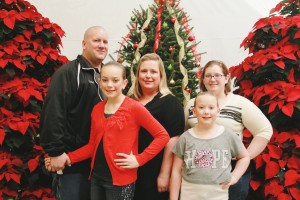 Our goal both then and now is: 
To develop the student's poise, self-confidence and pride as well as 
increase their skill, knowledge and appreciation of the Arts.
---
WHY CHOOSE DENOYER DANCE?
DID YOU KNOW:
We are family owned and operated since the mid-50's
We are committed to giving our customers the best and most comprehensive training in the area
We are an experienced, professional, Adult Faculty with Advanced Training, Certification and/or Degrees in Dance and Education as well as professional performance backgrounds
We are a Member of St. Louis Dancing Teachers Assoc., and Dance Masters of America, the Premier Organization for Dance Teachers
Both  Non-competitive or Recreational and Competitive dance classes are available
We have classes available in: Ballet, Hip Hop, Jazz, Lyrical, Musical Theater, Pointe, Tap, Pom-Pons and Modern.
Our schedule consists of a wide variety of class levels and times available ranging from 3 years of age through professional
We are proud to state that many of our students have gone on to professional careers in Dance and related fields including Television, Broadway, Dance Companies, teaching and performing throughout the world
Our studio is home to many title holders and has earned awards in choreography and performance
We are pleased and proud that our students receive College scholarships as a result of our Dance Training
Our Dancers have been featured in "Dance Magazine" – a premier dance publication in the Arts
We are known for giving special attention to each child's particular needs
Our Dancers perform at various venues including Six Flags, Busch Gardens, Disney, Cruise ships and commercials to name a few
We are dedicated to keeping our class sizes small, with a student/teacher ratio for young children averaging 6 to 1
Our dance classes are conducted on large spacious dance floors specially constructed and raised for the safety and benefit of the dancers' feet and legs
We regularly bring nationally acclaimed Guest Artists to conduct workshops for our students
Our yearly Recital is presented in mid-June
We have in classroom cameras and a big screen TV in our lobby to allow parents to watch the classes each week.
We are very proud of our long standing reputation of excellent dance training in a nurturing and caring atmosphere
 Our Classes will teach your children poise, grace,
teamwork and discipline in addition to excellent
dance training in a loving and nurturing environment.
In addition, we offer a spacious waiting area for parents.
Teaching Dance is the Medium by which we develop these aspects of your child's education, along with teamwork and helping your child build new friendships.
Thousands of families over the years have chosen
"DeNoyer Dance" for their children.
  Thank you for considering and choosing our School