Our dance program offers students the opportunity to grow and develop as happy, healthy, talented individuals with an emphasis on camaraderie and teamwork. The confidence, poise and self-esteem gained through our instruction are invaluable tools for every student. The discipline fostered through training and dedication will be an asset in all phases of your child's life.
Disciplines
2017-18 Class Schedule!!!
Is Available!
WHAT'S NEW AND EXCITING?
DeNoyer Summer Camps!!
(Register online "Look under summer", or call us!)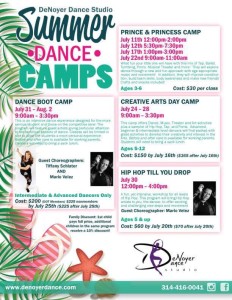 Free Classes???
(Call us to get your Spot!!)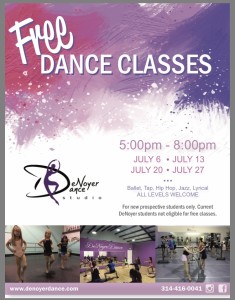 DeNoyer Promotions for the 2017-18 Season!
Help Us Celebrate our 60th year in Dance!
1/2 monthly tuition for the season for any new boy for 1 class. as long as the boy does not currently dance for DeNoyer this will apply.
Referral Program!For every new student your bring in, and they use your name, we will add a $10 credit to your account! Student must register, pay reg fee, and first month in order for the credit to apply. We will be doing this at the time of registration so don't miss it.